BILLINGHAMS OF CRADLEY HEATH
Sponsered by Billingham Motorcards Suppliers of Nostalgic Postcards & Photographs. Click Here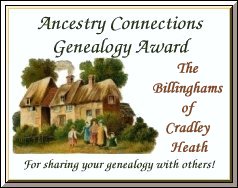 The Billinghams of Cradley
Updated February 2006
Soloman Billingham.
Son of Emmanual Billingham and Agnes Billingham nee Smith.
Soloman born 1791-1866 Age 75 years.
Married Sarah Kendrick 19-9-1814 at Oldswinford.
Occupation Chainmaker.
Living at Lomey town Cradley Heath according to 1841 census
Children at this time listed as below.
Jeremiah born 19-2-1814.
Farmer born 15-2-1817-1886. Married Sarah Mackintosh.
Soloman baptized 25-12-1818. Married Mary Bagot on the 24-6-1850 at St Thomas Dudley.
Edwin baptized 15-2-1824. Married Sophia? Children AnnMaria born 1849.
Sarah Rebecca ( Sebra) Married Cornelius Sidaway, 1851 Census puts Sebra age at 24 years, Cornelius age at 28 years and born at Rowley Regis. There daughter Sarah Sidaway age 5 years, Son Jesse aged 3 years and son Joseph Sidaway age 1 year.
Sullivan baptized 5-2-1826.
Selva born 1827 listed as a Chainmaker.
Ann ?????
Reuben born 1830-1905