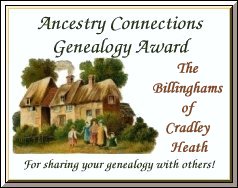 The Billinghams of Cradley
Updated February 2006
Alfred Billingham.
Occupation Chainmaker Born 28-4-1861.
My Grandfather.
Place of Birth Park St. West.Stourbridge.
Married Martha Eliza Ince 1862-1944. My Grandmother.
Children 8.
Harold ??
Harry ??
Alfred Len. Married a French lady first name Lucian had child called Alfred (Alfie).
Howard Cyril. My Father Born 1897.
Marie. Born 15-12-1896-10-9-1974. Married Jack Dipper 1925, Double wedding with her sister Connie. Children 2 Twin Girls Born 2-2-1941. Jacqueline Married. Died 1994. and Gillian Married with Children
Connie.
Born ?? Married Lesley Eyles Double wedding in 1925 with sister Marie Children 1 Barbara who married a Mr Francis.
Dorothy Born ????