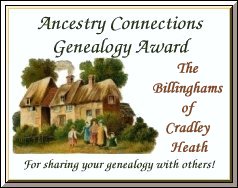 The Billinghams of Cradley
Updated February 2006
Benjamin Billingham.
Son of John and Pheobe Billingham.
Born 1811-1895.
Known as Benny Fiddler Innkeeper of the Bell Inn Five Ways, Cradley Heath.
Married Ann Grove.
Children.
James Billingham born 1833-1864 married Mary Davies 1833-1905.
Ann Billingham born 1839.
John Billingham 1841-1896. Journeyman brewer of Scolding Green Cradley Heath. Married Sarah Ann Griffiths.
Benjamin Billingham born 1844-1903 publican of Scolding Green Cradley Heath died unmarried.
Jerimiah Billingham born1847-1897 brewer married Isabella Tromans. Was Isabella part of the Tromans beer family???