BILLINGHAMS OF CRADLEY HEATH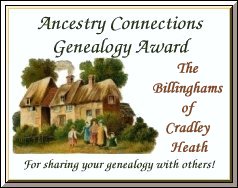 The Billinghams of Cradley
Updated February 2006
REUBEN BILLINGHAM
My Great Grandfather
Son of Soloman and Sarah Kendrick
Born 1830-1905. married Maria Bishop 1833-1892 at the Parish church North Harbourne on 11-12-1853 Residing at time of marriage in Smethwick.
Maria Died of Poison Suicide.
Maria Billinghams Death Certificate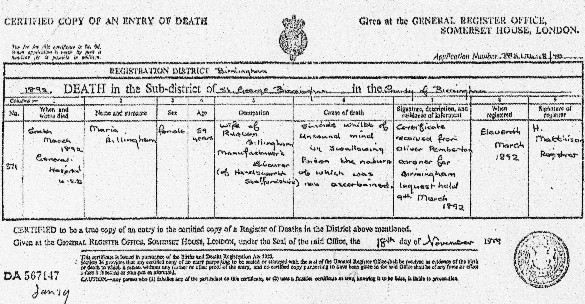 Ruebens Occupation Chainmaker
Reuben and Maria Billinghams Children.
10 Children.
George Born 1857
Reuben Sidney Born??
Alice Born 1859.
Mary Ann Born 1863.
Albert Born 1873.
Jane Born 1875.
Alfred Born 1861. My Grandfather.
Ada Marie Born 1867