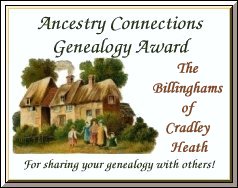 The Billinghams of Cradley
Updated February 2006
Farmer Billingham
Born 15-2-1817-1866. Married Sarah Mackintosh.
Chainmaker in New St. Stourbridge.
Children .
Annie Billingham Married Thomas Bourne, they moved to Golbourne near Leigh Lancashire.
Their Children
Ernest Harry Bourne born ???? died in Yeovil. Married Rachel Bennett. Had Children.
Victor Bourne born 1870 married Elizabeth Ann Cawley(1870-1909)
Their children
Annie Bourne. died 1956 married John Benbow
Albert Victor died of wounds at Boulogne 1918.