Billinghams of Cradley Heath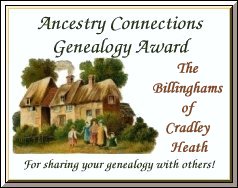 The Billinghams of Cradley
Emanual Billingham.
Born July 1799 Christened 28th July 1799 at St Peters Chapel Park Lane Cradley England
Son of Emmanual Billingham and Agnes Smith
Married Elizabeth Westwood 10th July 1819.
Children.
William Billingham born 1833 Married Elizabeth Homer about 1836.
Children.
Walter Billingham born Dudley England 20th Jan. 1857 Died Montreal 4-3-1939
Married Sarah Jane Davies 1881 in Stourbridge England.
Children.
Bert Billingham born 3-2-1892 died 4-12-1946.
Married 9-9-1915 Nellie Treagus (born 1-10-1889 Chichester England)died 1981
Children.
Gladys Billingham
Born Montreal, PQ Canada July 18th 1918 died 2-July-2002
Gladys Billingham married Clayton Patch
To see the rest of this family tree click the link below.