Updated April 2008
Descendants of Nancy Billingham.
1819-1897.
Nancy Baptised 13-2-1820 at St Peters Chapel Cradley Heath. Parents John and Phebe Billingham.
Nancy Billingham married at St Thomas Dudley on 3-2-1839 to Jabez Adams.
Jabez Adams born 1883. Son of John 1772-1857 and Nancy Adams 1774-1857.
Photograph of Jabez & Nancy 1839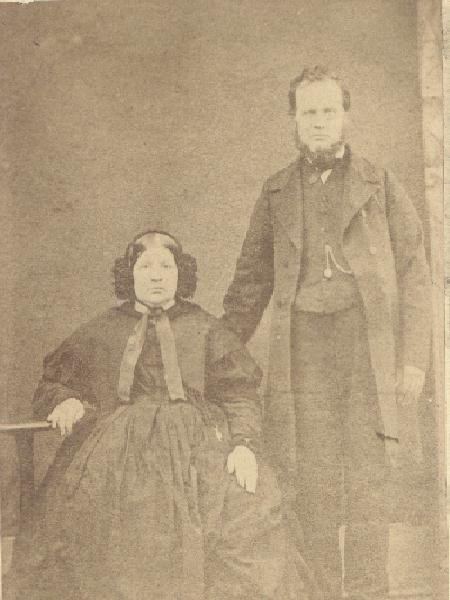 They had a large family 13 children.
*******
Adah Adams. born 1839-
Zillah Adams. born 1842-
John Billingham Adams. born 1844-1921. click here to follow this line.
Thomas Adams. born 1845-
William Adams. born 1847-1847.
Pheobe Emila Adams. born 1848-
Phillip Henry Adams. born 1850-
William Edwin Adams. born 1852-
Myra Adams. born 1853-
James Adams. born 1855-1880.
Flora Adams. born 1858-
Alma Adams. born 1861-1866.
Albert Adams. born. 1864-1866.
My Thanks to Mike and Mags Adams-Aston for most of the information.