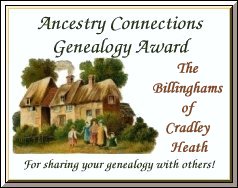 The Billinghams of Cradley
Updated February 2006
The Billinghams of Hellidon and Northampton.
This is a new project we all know by now that there appears to be another "group" of Billinghams in this area, This section will run on the same lines as the rest of the site. Below are clickable links to follow.
As the saying goes "from small acorns grow mighty Oaks" lets hope.
********
The Family Tree of James "Jim" Billingham. Starting with James Billingham 1787-1837.
Fanny Billingham. Daughter of John Gardner Billingham of Hellidon
Thomas Billingham Organist at the Berry Lane Chapel Hellidon. Circa 1902.
Jennifer Fell has written a superb book on the history and life of the village of Hellidon. You can get a copy direct from Jennifer by telephoning 01327-260284