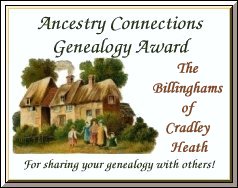 The Billinghams of Cradley
Updated February 2006
Welcome to the Billingham Family Line of Glen Billingham.
********
John Billingham. born 1795. Christened at Park Lane Presbetyrian Cradley 19-7-1795. He married Martha Yardley 21-4-1822 at Kingswinford.
Children
John Billingham born 1822 in Dudley Wood.Miner, then Chainmaker. Died 1897 Aged 73 years. Married Mary Gill. 22-3-1841 at St Thomas Dudley.Mary died 1897 aged 73 years. They then moved to Tibbetts Back in Cradley Heath.
Children.
Henry Billingham born 23-12-1850. Died 15-6-1940 age 90years. He married Ruth Yarnold (Yarnell) 28-5-1872 St Thomas Dudley.
Children.
Oliver Billingham Born 1891 Died Wednesday 13th October 1915. Age 24.
John Henry Billingham. born 22-10-1872 Tibbets Back Cradley Heath ( Beehive St ) Married Matilda Bourne at St Lukes 25-12-1895. John Henry Died 1945.
Children.
Alfred Billingham born 29-12-1899 at Waggon Street Old Hill. Married Edith Mary Hughes 13-3-1922 at Dudley. Alfred Died 14-3-1974.
Children.
Edwin Shade Billingham born 28-11-1929 at North St Netherton. Married Mary Bate.1954.
Children
Glen Billingham born 1956, who has supplied all of this information Thankyou.