Updated February 2006
John Son of George Billingham
John Billingham the start of the Trenton New Jersey USA Line. Extracts below are from an old Genealogy Book from Mercer County 1905.
Phillip Billingham, a member of the Billingham Iron Foundry Company, Trenton, New Jersey, is a native of Cradley Heath, South Staffordshire, England, the son of John and Sarah (Parks) Billingham, also natives of Cradley Heath,England.Emmanual Billingham (Great Grandfather) was born in Cradley Heath and obtained, his education in the pay schools of of his native place. Early in his life he was apprenticed to learn the trade of Chainmaker and after his term of service expired, went into business for himself. He married and had a large family one of whom was George.
George Billingham, eldest son of Emmanual Billingham, and grandfather of Phillip Billingham,received only mearger education, and followed the same vocation that his father had adopted and in 1885 discovered the process of making bright steel chains. He went into business with his father subsequently becoming his partner.
He married, and had eight children.Five died between the ages of 20 and 30 years of age.Caroline lived to 66 years, John who is now 83 years (note this was printed in 1905) and still active in the business.
John Billingham Phillips father and son of George acquired his literary training in a payschool in his native place ( Cradley Heath) and then following the footsteps of his father and grandfather, learned the trade of chainmaking. He was a capable workman and a good business man and thinking that there were better results to be found in America set sail in1872 landing in New York. Then on to Trenton, New Jersey where he obtained work with a company called Kendrick and Runkle.
After spending a year with this firm he sent to England for his two sons Phillip and Arthur, and in 1873 they to set sail for America.They also took work with the same company as their father.
They were employed here till 1876 when because of a depression in the busines they became unemployed.In 1876 they entered business on their own account engaged in the manufacture of chains conducting their business under the name of John Billingham and Sons. In 1884 they added a machine shop to their factory and in 1895 added the foundry.
The wife of John Billingham (Sarah Parks) a native of Cradley Heath were she lived and died bore him eight children , two died in infancy Those who have grown to maturity are: Phillip, Maria, Ezra married Annie Smith and have two children Lizzie and Russell. Arthur Married Clara they have four children Bertha, Annie, Flora and Arthur. Lizzie married Arthur Cummings and they have four children.
John was married but had no children.
Phillip Billingham son of John Billingham and Sarah Parks obtained a good education in his native place(Cradley Heath). He remained in England after the death of his mother Sarah, then set sail to his father in America as detailed above.In1895 with the company of Alexander O.Wittmeyer and Walter Emmons they formed the Billingham Iron Foundry Company. They have thirty men working for them and have patented several machines that has brought them a large income.
Photograph of Phillip Billingham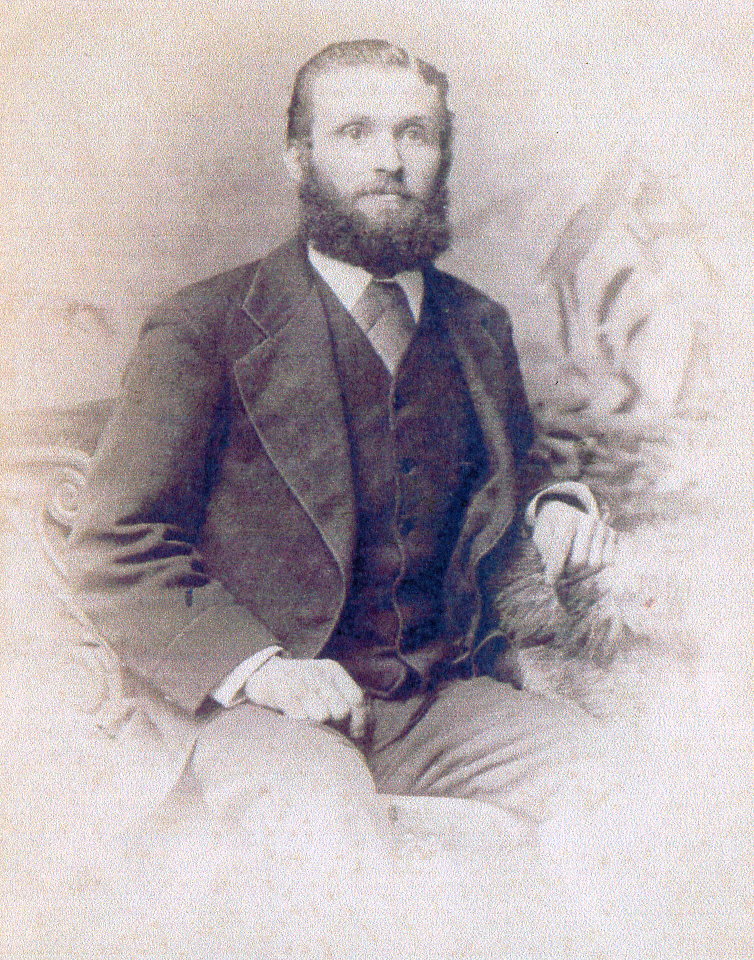 Politically Phillip Billingham is an Independent Republican and follows the methodist faith.
Ken. H Billingham is a direct descendant of this line. If You wish to contact him his postal address is Kenneth H Billingham 137 Westbrook Rd. Feasterville PA 19053.
Ken, Colin and Adrian Billingham all share the same Gr,Gr, Gr Grandfather Emmanual born 1751.
Update 2008 Information on the above sent in by Thelma Benton
Father JOHN BILLINGHAM - Bom November 3.1822; Died June 27,1905 Age 82
Mother SARAH H. PARKS - Bom December 18.1831; Died Aug. 16, 1869 Age 37
MARY ELIZABETH CUMMINGS father, JOHN BILLINGHAM. SR, was bom on November 3.1822. His father was GEORGE BILLINGHAM and his grandfather was EMANUEL BILLINGHAM.
When John was 28 years old, he married SARAH H, PARKS, who was only 19 years old (bom December 18,1831). They were married on April 1,1850 in Dudley Lower Church, St Edmonton. England, John and Sarah had 10 children, two of whom died as infants and one at nine years.
Maria Billlngham Born 17-5-1851 Died 2-6-1928 Age 77
Ezra Billingham Born 11-1-1853 Died November 1919 Age 66 (see photo of Ezra at bottom of page
Philip Billingham Born 13-2-1855 Died November 1920 Age 65
Jesse Billingham Born 23-2-1857 Died 3-11-1861 Age 9
Simeon Billingham Born 1-10-1858 Died 14-4-1859 Age 6 months
Arthur Billingham Born 10-2-1860 Died 2-9-1949 Age 89
John Billingham, Jr. Born 27-4-1862 Died 22-5-1923 Age 61
Sarah Ann Billingham Born 18-6-1854 Died 1-4-1887 Age 22
Mary Elizabeth Billingham Born 6-2-181867 Died 15-11-1944 Age 77
George Billingham Born 2-5-1869 Died 22-3-1870 Age 10 Months
Three months after the birth of her 10th child, Sarah died (August 16, at the age of 37. The oldest daughter, Maria, then 18 years old, took over the responsibility of raising the eight children, including her 3-month-old brother, George-The baby. however, died when he was 10 months old-
JOHN BILLINGHAM, SR. had a brother, JOSEPH, whose name was RUTH. They also lived In England and had four children.
Mary Ann Billlingham - Bom July 12,1847
Albert Billingham - Bom November 23,1848
Kesiah Billingham - Bom May 20,1951
Uriah Billingham - Bom August 10.1853; Died June 16,1869
SARAH PARKS had a sister, ELLEN PARKS WRIGHT, who also came to the United States. She had two children:
Sam Wright
Alice Wrtght Lambert - Alice had two children:
Clara Lambert (daughter)
Berlin Lambert (son)

Ezra Billingham 1853-1919.