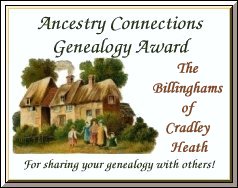 The Billinghams of Cradley
Updated February 2006
The Australian Connection Eric Billingham.
Eric Billingham is directly related to the Jane Billinghams Family Line.
Eric Billingham.
Eric was born in 1931 at Chatham Medway England.
Son of Albert Victor and Clara Florence Billingham. (nee Alltimes 1901-1998)
Eric Billingham has been married twice first in 1960 to ??? Grimes.
Son from this marriage is Steven Billingham born 1962 at Chatham.
Eric then married Ruth in the 1970s in Melbourne Australia.